Flipping e-publications in the form of exe allow downloading?
You know, FlipBook Creator (Pro) provides three main output types: *.html, *.zip and *.exe. Lots people love the third output type for its convenience of transferring among different computers. Yes, only if install it like an executable software. You can view the flipping e-publications without any other spare workload. Something couldn't you know that sometime, you can't email the form of EXE as attachment because many online mail box recognize it as virus and prevent it from sending out. In this case, you could rename the exe flipping book or catalog such as append a suffix name ".txt" or others, also you can add a txt file to instruct others how to use this file, and then compress it with the ZIP software. By then, customers receive it, unzip it and read the instruction. Eventually they can install the flipping catalog correctly.

FlipBook Creator Pro provides the amazing interface of "Edit Page", you can make use it to add audio, video, flash, image, hyperlinks, button, etc rich media to your flipping pages, which makes the output flip page book look magic and unbelievable. We take the function of "Insert Button" for example.

Step1: Click the icon on top menu line "Edit Page".
Step2: Access to the "Edit Page" interface, and then click "Insert --> Insert Button".
Step3: Enclose an area to put the button on any page of the flipping catalog.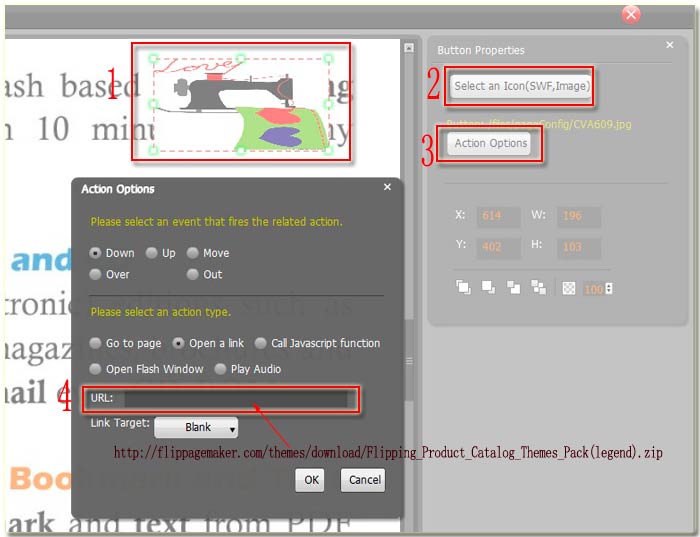 By now, you can view the small window on the top-right place, click the button "Select an image or SWF" to choose a button icon. Next…Click the next below button "Action Options", on the popup window form of "URL" enter the entire URL downloading address such as http://www.domain.com/downloadfile/my_PDF_file.pdf.

Note: you must enter the whole URL of the downloading on web serve but the relevant or absolute path on local PC environment.
Free download FlipBook Creator
Free download FlipBook Creator Professional
Free download Photo to FlipBook