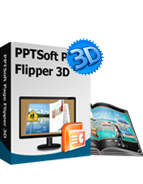 $69

PPTSoft Page Flipper 3D
Convert PowerPoint into 3D interactive page-turning publications
Easy and accurate PowerPoint to flash 3D interactive magazines conversion.
10 more built-in templates for you to help you make attractive flipping books quickly!
Thumbnail view makes browsing the 3D publication significantly easier!

Unlimited

PPT to FlipBook

conversions

without paying royalties.
Publish online or offline(email, SWF, ZIP and CD).

Free Trial
Buy Now
View Demo
Why use?
Features
Screenshot
How It Works
PPTSoft Page Flipper 3D is a Easy-to-use professional desktop editor for creating flip books with the page turn effect from your PowerPoint. PPTSoft Page Flipper 3D helps you to produce remarkable online and offline 3D Flip books. No coding is required. Simply import your PPT, configure the look&feel and hit the publish button.
PPTSoft Page Flipper 3D is also used as flipping books maker software that allows your to convert PowerPoint to 3D flipping book, create flipping book, flash flipping magazines, brochures, reports etc to share online or offline.
Online magazines or web brochures creator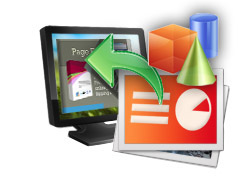 A simple, easy to use interface designed for everyone from the novice computer user to the professional desktop publisher. The style is WYSIWYG (What You See Is What You Get) so you see exactly how your ebook will appear in the final publication. All eBooks feature an advanced page turn feature, replicating the page turn and movement from a real book

Rapid FlipBook Creation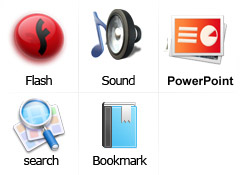 Turn PowerPoint into online flash FlippingBook with cool 3D page turn effect. Publications automatically adjust to screen resolution, so you can be sure that they will look good on many different screens.
Every Page Flip Publications can be embedded directly inside your web page or as a separate website.
Sound support (MP3) with Adobe Flash® Video (FLV) generation. You can set background sound, always play or define times
Create Bookmark for your FlippingBook ; Insert your company's logo directly into your digital edition.
Thumbnail : Your publication provides fast navigation to pages a visitor is most interest in and past pages they are not by full click to page functionality!
Powerful FlipBook Settings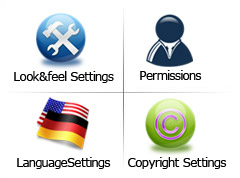 Look&feel Settings : Configure appearance with your company-specific style (change theme, background colour, icons, logo)
Print feature: Instant print of selected pages or all pages of the book right from the program interface.
Permissions: Add password to protect your flipping book; Set permissions for downloading, printing, sharing, Home button and more.
LanguageSettings: Define your language for FlipBook.
Copyright Settings : Add watermarks text, image, dynamic date/time etc to FlipBook. Define ebook titles, keywords and other metadata.
Highly customizable: Supports all the features you'll possibly need and these features can be configured the way you like.
Zoom viewing with variable resolution: Zoom dynamic, zoom in, zoom all, zoom out, either way and pan pages to view details
Customize FlippingBook Themes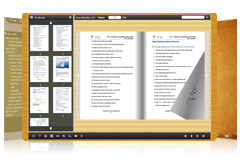 Multiple ready-to-use Flash flipping book templates in the software for you to use. You can choose and make change based on your book style or your design requirement. You can do a lot of settings such as 3D eBook Tool bar color, backgrounds color and image for better displaying.
You can change the template color scheme freely as you like to make the flash more attractive.
Deliver FlippingBook Everywhere
The output flash flipping book can be exported with following options:
Publish flipping book as stand-alone EXE for CD delivery
Create online flipping book for websites as Flash (SWF)
Create offline flipping book publications for CD/DVD
Produce ZIP Package and email to your customers
Measure advertising ROI with the Google Analytics
Google Analytics Integrated features coming with this FlippingBook Creator:

Track your visitors with Google analytics, improve the ads and get more detailed information for building of the steady plans. The code of Google Analytics can be embedded to each book and all statistics will be available from your Google Analytics account live, and gives us the ability to track page load time for every page on a website, and then analyze load speed in great detail within the publications.
Product Features
1.            Convert PPT to Flash eBook with 3D page turning effect.
2.            Apply a pre-designed template.
3.            Export and save settings or projects for future uses.
4.            Define book Title.
5.            Enable Auto Flip with setting Flip Interval.
6.            Set Google ID to analyze visited pages in your 3D eBook.
7.            Enable users to share via Facebook, iGoogle, Myspace, Twitter, Digg etc.
8.            Set Share ID (ID in AddThis website: https://www.addthis.com/) to analyze shared times of your 3D eBook.
9.            Set Zoom Modal to zoom in single page or double pages together.
10.          Input Presenter information such as name, website address, Email and details info to show in About Window.
10.          Choose color for Tool Bar.
11.          Define logo and linked webpage to show on Tool Bar.
12.          Pre-set tilt angle while opening the eBook.
13.          Set background with pure/gradient color or image directly (5 positions for background image: Fill, Fit, Stretch, Tile and Center).
13.          Insert background sound and define loop status.
14.          Output to different formats: HTML, ZIP, EXE, Mobile Version and Burn to CD.
•              HTML allows you to upload to a website to be viewed online (with title, keywords and other metadata defined).
•              EXE (with setting title, icon and open window size) and Zip allow you to send to your user by email to be viewed on their computer.
•              Mobile version is to output HTML 3D flipbook which can be viewed on mobile devices via Browsers.
•              Burn to CD allows you to burn to disk so that you can send your user physical media for viewing on their computer.


Output 3D flash magazines Features
With the 3D flash flipping book you have created, your user will be able to:
1.            Click Page frame bar or navigational buttons to turn pages.
2.            View with important pages pre-loaded to open quickly, no need to wait for all pages to be loaded.
3.            Go to website by clicking the eBook logo.
4.            Double-click or click zoom in/out button to zoom in or zoom out pages.
5.            Define zoom in scales manually.
6.            Manually define Tilt Angle or wheel mouse to change angle to view eBook pages.
7.            Flip pages automatically.
8.            Turn page-turning sound on/off.
9.            View eBook detail information.
10.          Share eBook URL via Email, iGoogle, Facebook, Twitter, Digg, etc.
11.          Print out the whole eBook or a selected range of pages.
12.          View page-flipping eBook in full screen.
13.          Open in the Browser to a specific page by adding a page index to your URL.
E.G.www.yourdomain.com/index.html?p=4.
14.           View page-flipping eBooks on iPad, iPhone and Android devices.

Here are some screenshots of version 2.0 below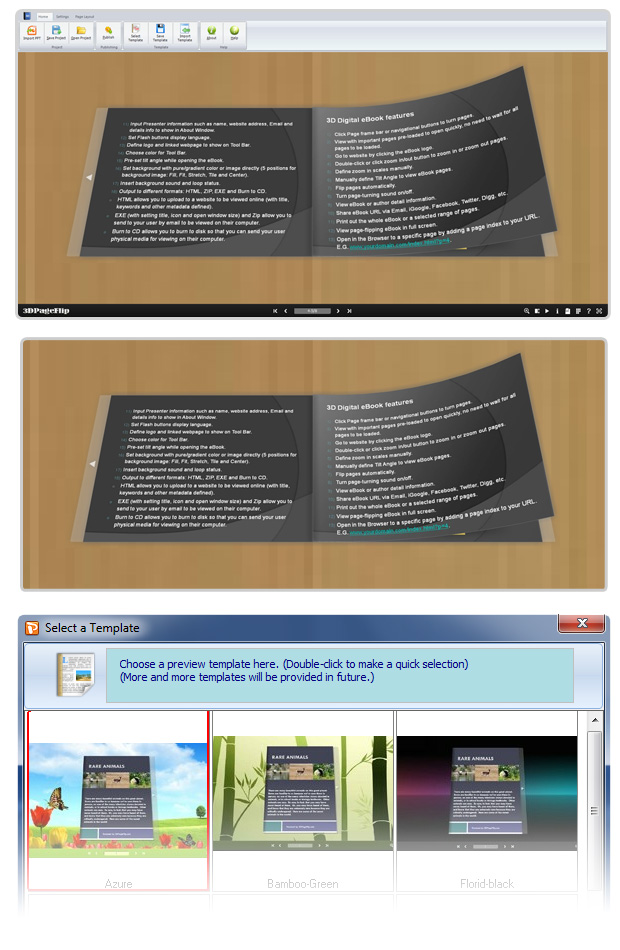 Three steps to create flash flip eBooks from PowerPoint (PPTSoft Page Flipper 3D)